If anyone has ever had the feeling of time standing still, we did when we stepped back on the dock at South Shore Lodge again for the first time since we left 9 years ago. Right away we noticed some changes and some changes that need to be done, but for the most part it was like returning to the place you grew up and all the great memories come back. The comments between us started with…remember when we did that, remember when we did this, remember when…you know how it goes.
With no idea what to expect, our first order of business was to evaluate, check things out and begin to deal with one thing and one day at a time. The old saying "how do you eat an elephant?…one bite at a time" applied this summer.
After a couple weeks of whirlwind pre-season preparations the familiar faces from the past began showing up. It was as if the last nine years vanished and we were back "in the saddle". After dealing with some snags we inherited it was if we had never left.
It was an awesome fishing summer. Walleye, muskie, northern, smallmouth…lots and big. We have, over the years, always had good fishing being so close to the prime fishing area of Eagle Lake but what a great summer it was. With being gone for a few years, I asked some friends on the lake and in the area if this was an exceptionally good year or has the conservation program we put in place 15 years ago really taken off. To a person the response was that this is what Eagle has become. What a great future we anticipate here with that consensus. One of the top things we missed in our time away from South Shore was fresh walleye and did we ever make up for that!
So, what are the plans for the future? The list of high priority projects got done this summer.
We finished installing the incomplete water filtration system, repaired the fish shed supports that had fallen over, repaired docks that had been ignored and no longer usable, dealt with some government issues that were not up to date, installed new fuel tanks and brought the fuel delivery systems up to
standards. We also spent time cleaning up the old dock cribbing and other debris that had taken up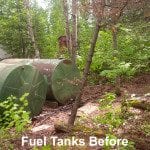 residence on the bottom of the bay around the main dock. These are just some of the major things that had to be done. Now it's on to the more routine
repairs and maintenance, and it's good to be at that point.
We went home after the summer anticipating the future, having accomplished a lot and with many plans for South Shore Lodge to once again be "Jim and Gail's" South Shore Lodge…a place you'll want to come to and want to come back to!
We have been gathering supplies and needed equipment this winter preparing for next summer. On the trailer already is a new commercial cook stove for Gail's kitchen…it is always good to keep the cook happy! The garage is stacked with supplies to go into camp with us this spring, new carpeted floors for some of the upgrade boats, new bilge pumps, depth finders, switches for the boats, hot water heaters, cabin stoves, etc, etc.  We are ready to hit the ground running or at least walking fast….we aren't 29 anymore like when we first bought South Shore! Last spring we were concerned for the unexpected, but now with a good handle on things, we're anxious for spring to come!
Thanks to the many SSL faithful guests who we hadn't seen for years and rekindled old friendships. With all of you and being back at SSL it's like things haven't changed and we are excited about being back and seeing all of you. To the guests of the lodge that we hadn't met, we appreciated the chance you gave us to see how SSL will operate in the future and we hope we have many years of seeing you and you becoming "the old familiar faces" we look forward to seeing each year.
See you on the dock next summer…we can't wait!! And remember our "thank you" is more than just words…we much appreciate you guys!
Jim and Gail